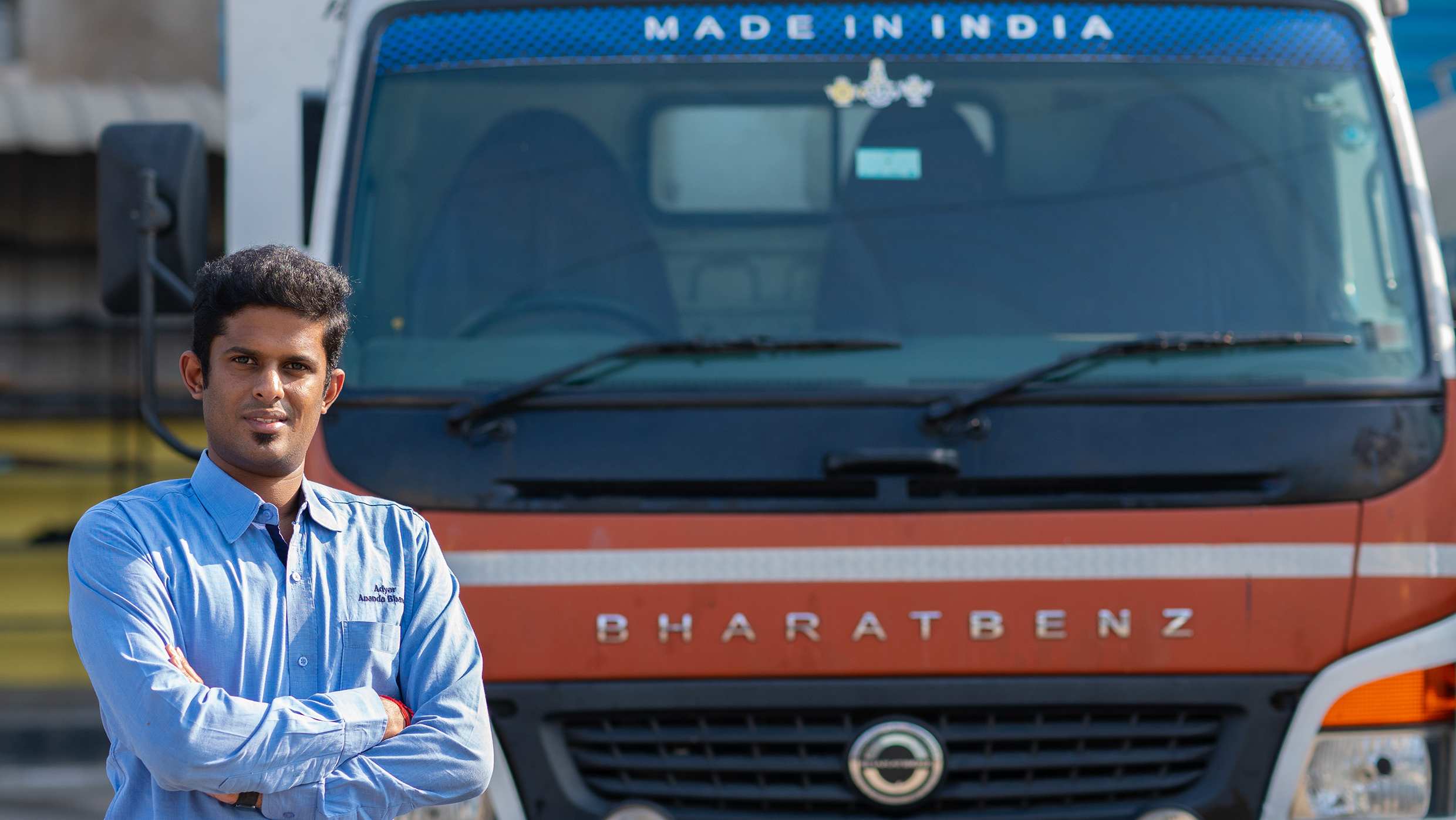 A2B - Banking on BharatBenz for critical operations
-
BharatBenz
8th January 2021
The transport of perishable goods in quick time calls for highly dependable vehicles that
don't fail when it matters most. Find out how Adyar Ananda Bhavan (A2B) found long-lasting
answers to its problems when it opted for BharatBenz trucks that have added a whole new
dimension to the marquee food chain's fleet. N. Balasubramanian gets the details in an
exclusive interview with V. Vishnu Shankar, Director, Adyar Ananda Bhavan Sweets India (P)
Ltd.
If you have travelled across the southern State of Tamil Nadu, there is no way you could
have missed one of the eye-catching yellow-blue outlets of Adyar Ananda Bhavan. A2B, as
it's more popularly known, is one of the most sought-after chains of vegetarian restaurants
in South India, with over 145 outlets across Tamil Nadu and Karnataka and a few more
overseas. Operating in the food sector has its own set of unique challenges, the main one
being shipping raw materials and finished food products which have very little shelf life and
demand fast transportation under controlled temperature levels. Having been in the
business for over three decades, A2B has all the necessary infrastructure and expertise in
place, as reflected in its position as one of the most respected and preferred brands in the
sector.
A2B's logistics operations are broadly classified into three parts: a) transport of ready-to-eat
restaurant food for which it uses small commercial vehicles; b) movement of goods from
factory to city outlets which is handled by ICV vehicles; and c) long distance inter-city
transport involving shipment of critical products like milk for which medium-duty vehicles
are deployed.
Giving an overview of A2B's operations, V. Vishnu Shankar, Director, Adyar Ananda Bhavan
Sweets India, says: "Our main operation hub, including our mother plant, is located at
Ambattur in Chennai. We have another plant in Bangalore, and two more mid-size facilities
in Coimbatore and Thanjavur. The raw materials reach our two main plants from where they
are shipped to our outlets in both States."
"Earlier, our vendors used to send them directly to our outlets but now we have
consolidated the operation and handle the transport ourselves. We have our own dairy in
Namakkal from where we procure close to 35,000 litres of milk every day and send it to all
our outlets across Tamil Nadu and Bangalore," he adds. In addition to its chain of
restaurants, A2B has close to 160 distributors for its FMCG products, which is one of its
fast-growing business areas. The brand is also present outside India with four restaurant
outlets in the US and one each in Malaysia, Singapore and Kenya.
THE 'BENZ' FACTOR
A2B has a total fleet strength of 189 vehicles of which 26 are from BharatBenz – mostly
medium-duty trucks and a few heavy-duty ones too. When asked about how A2B's
association with BharatBenz began and how much of an influence the 'Benz' name had to
play, Shankar responds: "Back then, my uncle aspired to buy a Benz vehicle. We got a
Mercedes Benz car and had to wait for six months for the vehicle number plate! Such was
the craze and demand for the Benz brand. Once Daimler's BharatBenz came into the truck
market, we were excited and wanted our drivers to enjoy the 'Benz' comfort and experience
like how we did."
MATTER OF TRUST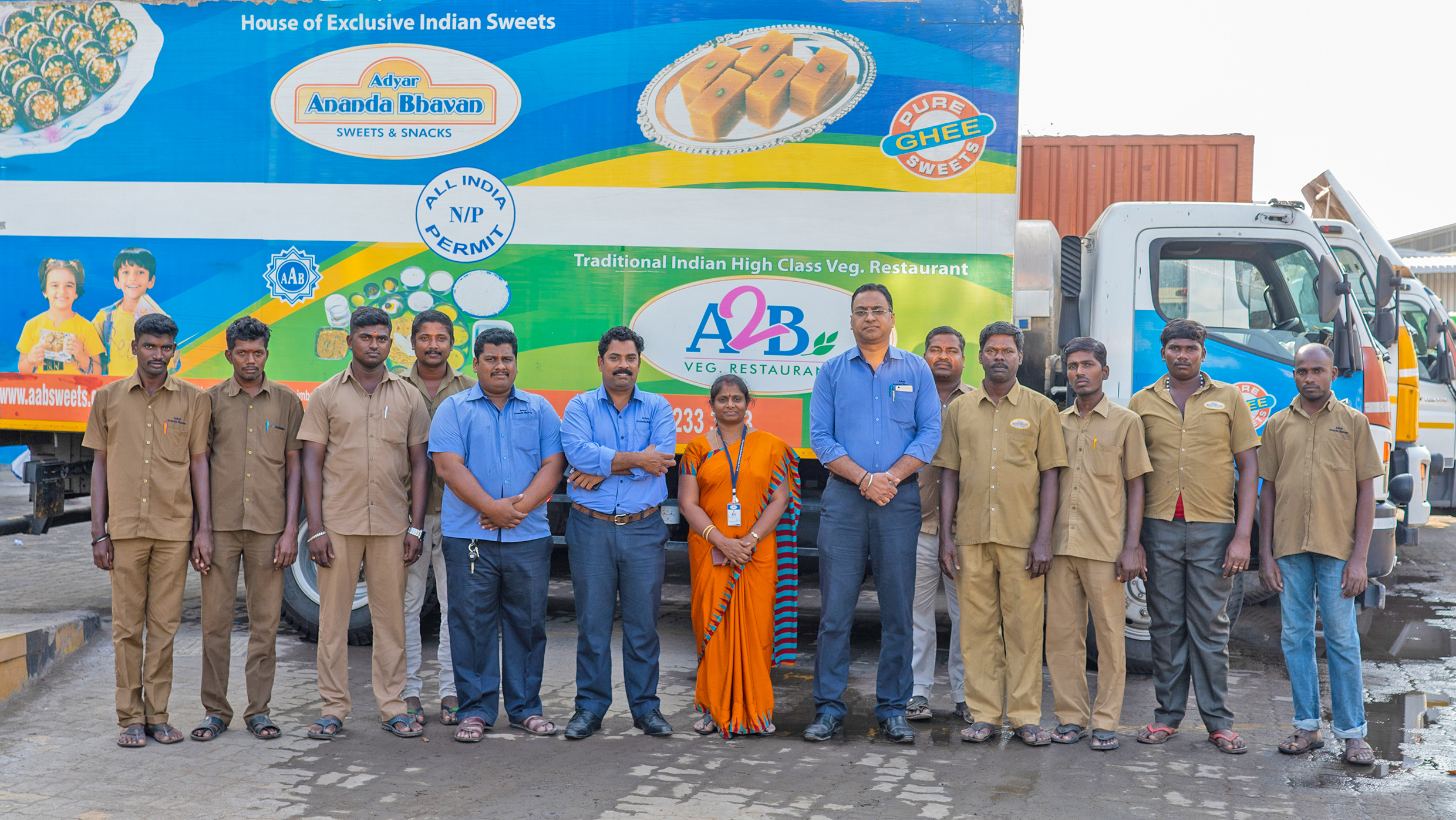 Though BharatBenz vehicles account for only a small part of A2B total's fleet, it is the kind of
operations they are deployed for that reflects the reliability of the brand. A2B has two
vehicles that carry milk from its dairy in Namakkal, clocking close to 900 km each on a daily
basis – one to Chennai and another to Bangalore – and both are BharatBenz trucks.
Explaining how BharatBenz became a mainstay for the critical operation, Shankar reveals:
"We wanted a vehicle that could run for long distance every day. We were using a different
brand but faced serious issues related to vehicle stability and engine heating due to which
our drivers were not happy. After trying another brand, we wanted to try out BharatBenz in
2014. The MDT vehicles delivered much better performance and it was easy for us to judge
and measure the benefits."
"Within six to seven months we were able to calculate our investment and savings – the
average cost was less than 14 paisa per km which was significantly lesser than other
vehicles. Both vehicles ran for 7,50,000 km without changing the clutch plate, which was
quite unbelievable. We had four drivers for each vehicle given the intensity of the operation;
the vehicles were more or less on road 24 x 7. Going by the results, we were thoroughly
convinced that BharatBenz was the best choice for such demanding operations," he adds.
A2B's BharatBenz MDT vehicles were among the first to cross 1 million kms in the country
and one of them was part of the 'BharatKaBenz Yatra' held in late 2018.
Currently, A2B's BharatBenz fleet is deployed for three applications – transport of water,
milk and regular goods (dry and reefer containers) and includes the following models and
the number of vehicles (as indicated in parentheses): 914 (10), 1214 (7), 1617 (4), 3123 (2),
1014 (1), 2523 (1) and 1414 (1), with one more vehicle getting added shortly. Given the
rigorous operations of the food chain, BharatBenz vehicles alone have covered over 1.5
crore (15 million) km in total, an astonishing figure that is greater than travelling 20 times to
the moon and back! Is there any further need to discuss about reliability, performance and
efficiency!
EXTRA MILE SERVICE & SUPPORT
An important factor that contributes to the high uptime and fast turnaround times of A2B's
BharatBenz vehicles is the company's focus on regular service and periodic maintenance
done with utmost care. Says Shankar: "Though the initial cost of BharatBenz vehicles was
relatively higher than other trucks, we are satisfied with the overall performance and the
savings we have seen over the lifecycle of the trucks. We were also happy with the kind of
service support they have delivered. For other brands, we have original spares, alternative
spares and even many duplicate spares, as a result of which we could easily get cheated.
With BharatBenz, one thing is clear – the service station is our only source and there is no
chance of any duplication."
Highlighting the benefits of being a subscriber of BharatBenz' annual maintenance contract
(AMC) package, he adds: "We have also signed up for their AMC scheme which gives us the
privilege of getting our vehicles serviced at any of their outlets. Most of our vehicles cover
long distances in short time and so the AMC is very helpful. We pay once a year and get
complete support on priority which makes a big difference to our operations. We have the
confidence that someone is there to help us in case of any trouble; there have been
instances where the mistake was on our side but they still helped us out without
complaining. We have a very good relationship with BharatBenz and their team is always
ready to extend whatever support is needed. They were very supportive when we bought
the first two vehicles, and even now, after their brand has been well-established, the same
support is extended, which is very appreciable."
LOOKING FORWARD TO IoT
In order to carve a niche in a highly competitive market, in any field, quality vendors are
indispensable. The same holds good in A2B's case, which sources key aggregates and parts
for its fleet from some of the best in the business: reefer containers from Surakhsha, tankers
from NS Rama Rao, and AC units from Thermo King. Leveraging its know-how on technology
and digitization, A2B is eagerly awaiting to implement IoT solutions across its fleet to be able
to further optimise operations and reduce costs wherever possible. It is waiting to try out
the new BharatBenz BS-VI range that comes with interesting fleet management solutions
and Driver State Monitoring (DSM) among a host of other features. "We will be one of the
first customers of BharatBenz' BS-VI MDT range and hope to see more IoT solutions from
BharatBenz which we feel would add a lot of value to our operations," Shankar states.
MAJOR EXPANSION PLANS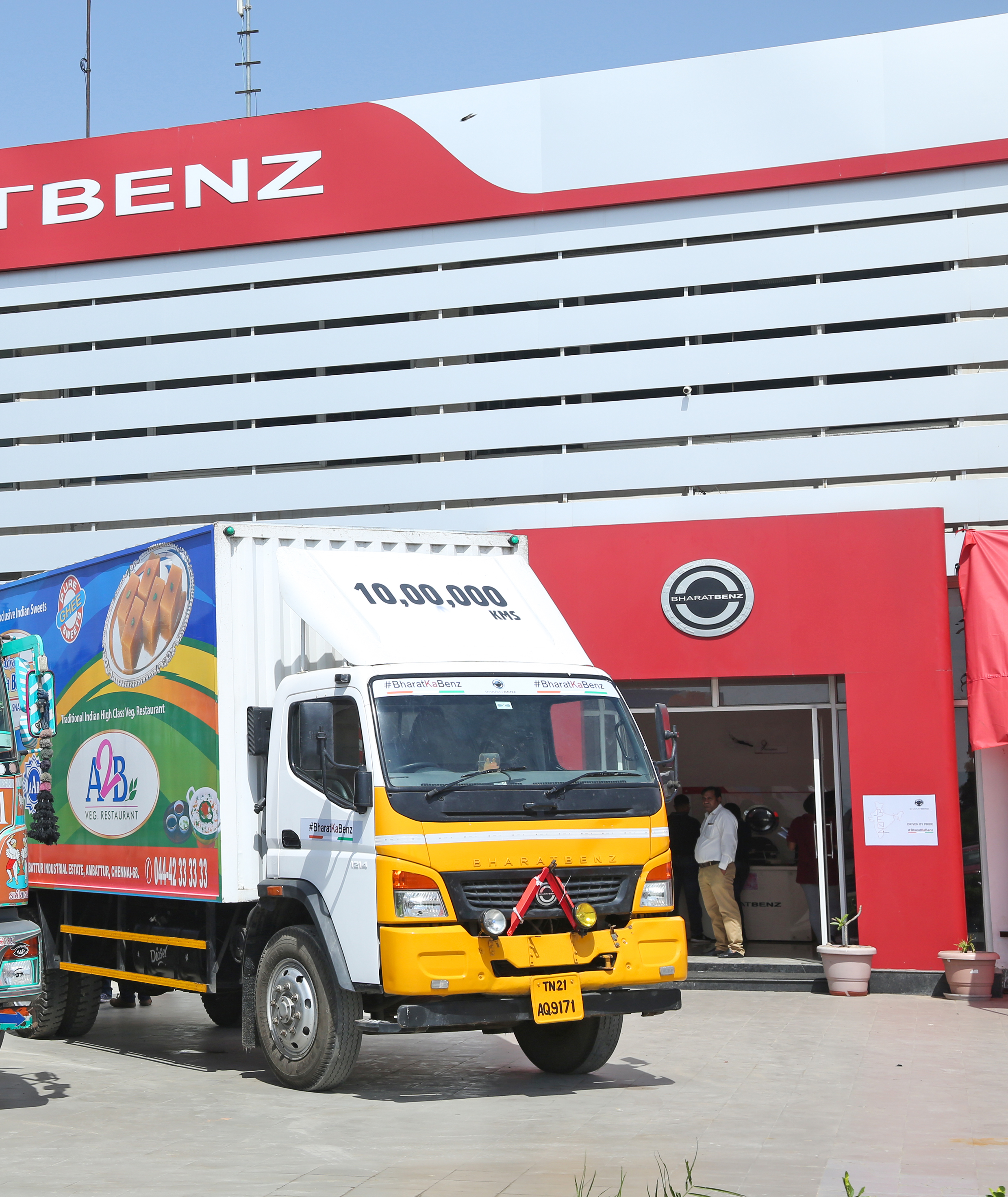 The FMCG biz is at the heart of A2B's expansion plans, along with the addition of new
restaurant outlets within India and also overseas. Shankar reveals: "We have major
expansion plans in the FMCG space and are planning to appoint 200 more distributors and
superstockists apart from the existing 160. After BS-VI comes in, we plan to buy around 6-7
new trucks. As for our restaurant business, we are looking to expand more into Tier III and IV
cities by adding around 7-8 new locations. On the dairy side, we plan to increase our
capacity to 50,000 litres per day. For all these, we will need trucks and are considering
opting for BharatBenz."
"We are also expanding globally – we have four outlets in the US and are adding two more.
We have a new outlet coming up in Sydney and Nairobi. We have an outlet in Singapore and
Malaysia and are adding two more in Singapore," he adds. As a closing remark, we ask the
young director about A2B's success mantra to which he responds with a gentle smile:
"Success comes from the kind of efforts our team puts in and the kind of confidence our
team exudes. Our employees are our driving force. We are into the food industry, so every
second matters; every vendor and partner like BharatBenz is critical. All of them are part of
our success story."