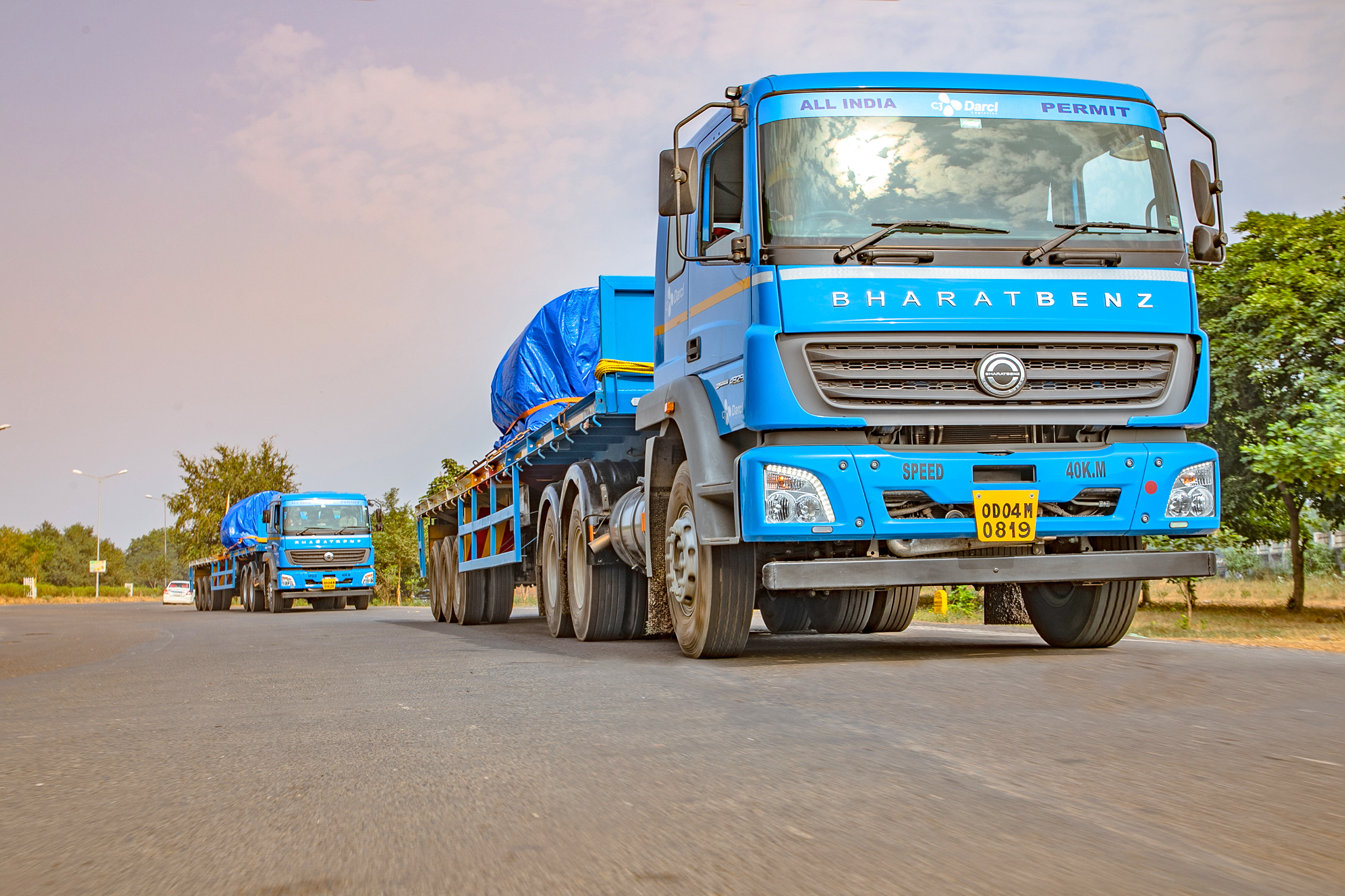 CJ Darcl Logistics bets big on BharatBenz
-
BharatBenz
17th March 2020
CJ Darcl Logistics has a historical experience of working with different truck makers and
owning diverse truck models as part of its assets, making them an expert in fleet priorities
and buying parameters. Enticed by Daimler's legacy and acclaim, the company went for
BharatBenz trucks in 2013 to test the waters. Six years on, the logistics giant seems more
than convinced that the brand is living up to its parent group's name in India. Dhiyanesh
Ravichandran gets the details
Truck fleets are the lifeblood of logistics and transport firms, and choosing the right trucks
and brand partner is a big decision. Of all their fleet management responsibilities, vehicle
selection and induction is likely to present the greatest conundrums ever for such
companies. That's no wonder, since determining fleet needs and correct replacement can be
a tough task, especially when dozens of makes, variants and packages keep one baffled with
most being similar and sensible, while constantly striving to preserve the company's capital
by 'achieving more with less' and keeping the stakeholders happy. Surprisingly, for large
fleet companies like CJ Darcl Logistics, one of India's foremost end-to-end transport
companies and fleet aggregators for almost four decades, fleet strategisation and induction
of new vehicles is extremely streamlined and effective.
This is thanks to their vast experience in trucking and fleet organisation for decades, and the
expertise they have gained from years of aggregating fleets from their associates and
suppliers. With an aggregated fleet reach of over 1,00,000 trucks, complemented by an
in-hand strength of nearly 1,000 vehicles, the knowledge pool the company has evolved in
this subject is immense. As Nikhil Agarwal, President of CJ Darcl Logistics, puts it, his
company doesn't need any consultant for truck buying. "We are consultants ourselves; our
fleet committee is much more competent to decide on buying matters. We have extensive
experience with different truck makers, fabricators and suppliers, and we know how robust
and efficient their products are with our valuable operational insights," he says.
"We also maintain a strict watch on their performance in the market, their emerging
product technologies, new product variants, and so on," Agarwal adds. His company claims
that in the last two years post joining hands with CJ Logistics, the company-owned truck
fleet is getting stronger in terms of numbers, although aggregation remains and would
continue to be its focal strategy. "We are determined to put our own assets in this regard to
remain more effective in our customer-centric approach," notes Agarwal. CJ Darcl Logistics
caters to over 2,000 companies across different verticals, including iron and steel, minerals
and ores, engineering and construction, automobile, chemicals and fertilisers, FMCG, and so
on, pan-India, along with deliveries to Nepal, Bangladesh and Bhutan.
STRIKING THE RIGHT CHORD

While elucidating about all the key parameters that are considered while buying new trucks,
Agarwal mentions engine reliability and fuel efficiency, maintenance costs, service support
and customer satisfaction, and emergency response even to remote locations, to name a
few. "As a company policy for decades, we are very much open in experiencing new brands
and products so that we don't miss out on anything substantial. We neither work with all
the OEMs nor show our loyalty to any manufacturer and float repeat orders as long as there
is no value proposition and a business case in terms of pricing and packaging. One brand
loyalty has a very big cost associated with it, and in times when close alternatives are easily
available from other manufacturers in a dampening economic scenario, we cannot afford to
lose out," he states.
Asked about his experiences with BharatBenz, Agarwal recounts that his company was keen
to try out its trucks right when the brand was launched in India since its parent brand
'Daimler' has always been synonymous with quality and engine reliability. "It's something
we could hardly resist. The trucks were also highly competent and prospectively addressed
our requirements." In 2013, CJ Darcl Logistics inducted 36 BharatBenz trucks to its fleet, all
being heavy-duty tractors. Later, an order of five mining trucks was issued for a specific
project, while the largest order ever from the company to the truck maker was put out last
year for 70 trucks, including 25 latest rigid-axle haulers, taking the total count of BharatBenz
trucks to 111.
"The fact that we have gone for BharatBenz trucks repeatedly tells a lot about the brand's
advantage. It has struck the right chord in every aspect and parameters by which we
evaluate the value proposition of buying a new vehicle. Our overall satisfaction with the
marquee has been reflected over the years," Agarwal comments. In particular, there is a
clear total cost of ownership (TCO) advantage, he notes, along with shorter lead time and
quicker emergency response in case of breakdowns – especially with their mobile service
van and mechanic teams – and on-road assistance offering better turnaround time. The
unmatched reliability of the engine and other aggregates stand out, he emphasises.
Agarwal goes on to say that his drivers are simply impressed with BharatBenz trucks and
prefer to drive them over other brands thanks to superior pilot comfort with ergonomically
designed cabins. The last batch of trucks inducted was equipped with air-conditioning as the
feel-good factor among drivers is the key to enhancing their productivity and retention, he
opines. The brand popularity is also getting better year-on-year among his associates, which
means more and more trucks with BharatBenz moniker are coming on board with his
company, he adds. Moreover, as a sign of an extended partnership, the truck maker is about
to take over one of CJ Darcl Logistics' truck maintenance facility in Odisha for enhanced care
and preventive maintenance of its fleet.
UNTAPPED POTENTIAL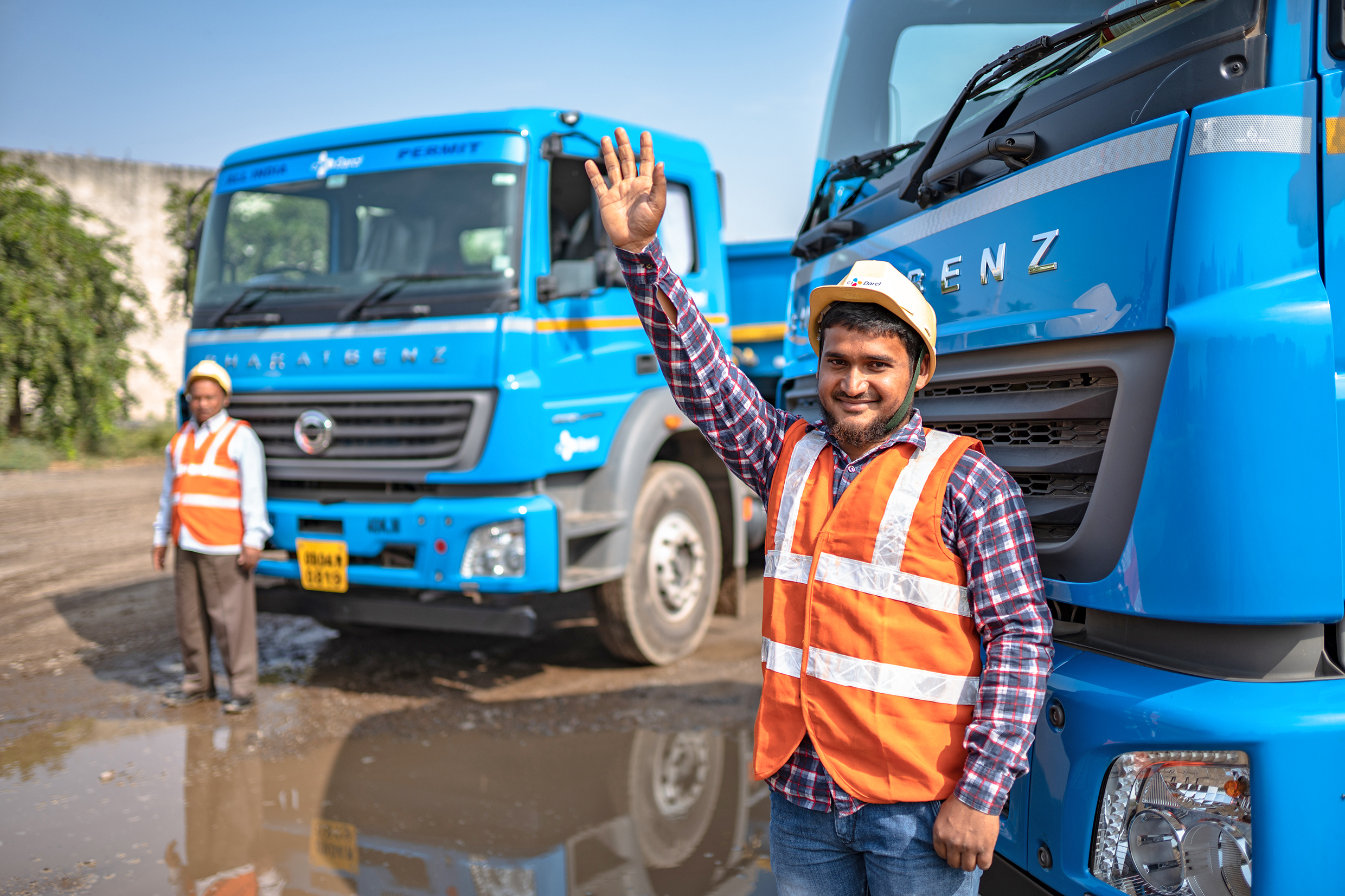 Looking ahead, the President of CJ Darcl talks about three key future enablers from truck
OEMs in the country. First, he suggests that vehicle recovery and affiliated services like
cranes or tow trucks in case of an accident at remote locations can be enabled to make the
processes more streamlined and cost-effective. Second, he feels that OEMs in general have
to take up more efforts in driver training towards frugal and safe driving. Third, he looks for
one-stop-solutions from truck makers for fabrication and fitment of trucking solution
beyond factory-built cabins, whether it is trailers or technological equipment like GPS
tracking, telematics systems, on-board driving analytics, etc.
"Truck manufacturers have huge potential in this regard as these things are becoming
common among all fleets in India. Although we rely on third-party vendors for such
accessory requirements, we may prefer OEM-built solutions for their assured reliability,"
Agarwal says. Together with lucrative AMC packages, transporters wouldn't mind paying
extra for these value-added services from the manufacturer, he adds.
In this regard, he spots BharatBenz as a flag-bearer, gifted with Daimler Trucks' phenomenal
international expertise to transform the trucking industry. "A slew of technological
improvements are happening across the world, may it be alternative fuels like CNG or LNG
and battery-electric trucks, or new axles and suspension technologies. We are quite
interested in trying them out and reap the first-mover advantage," he says.