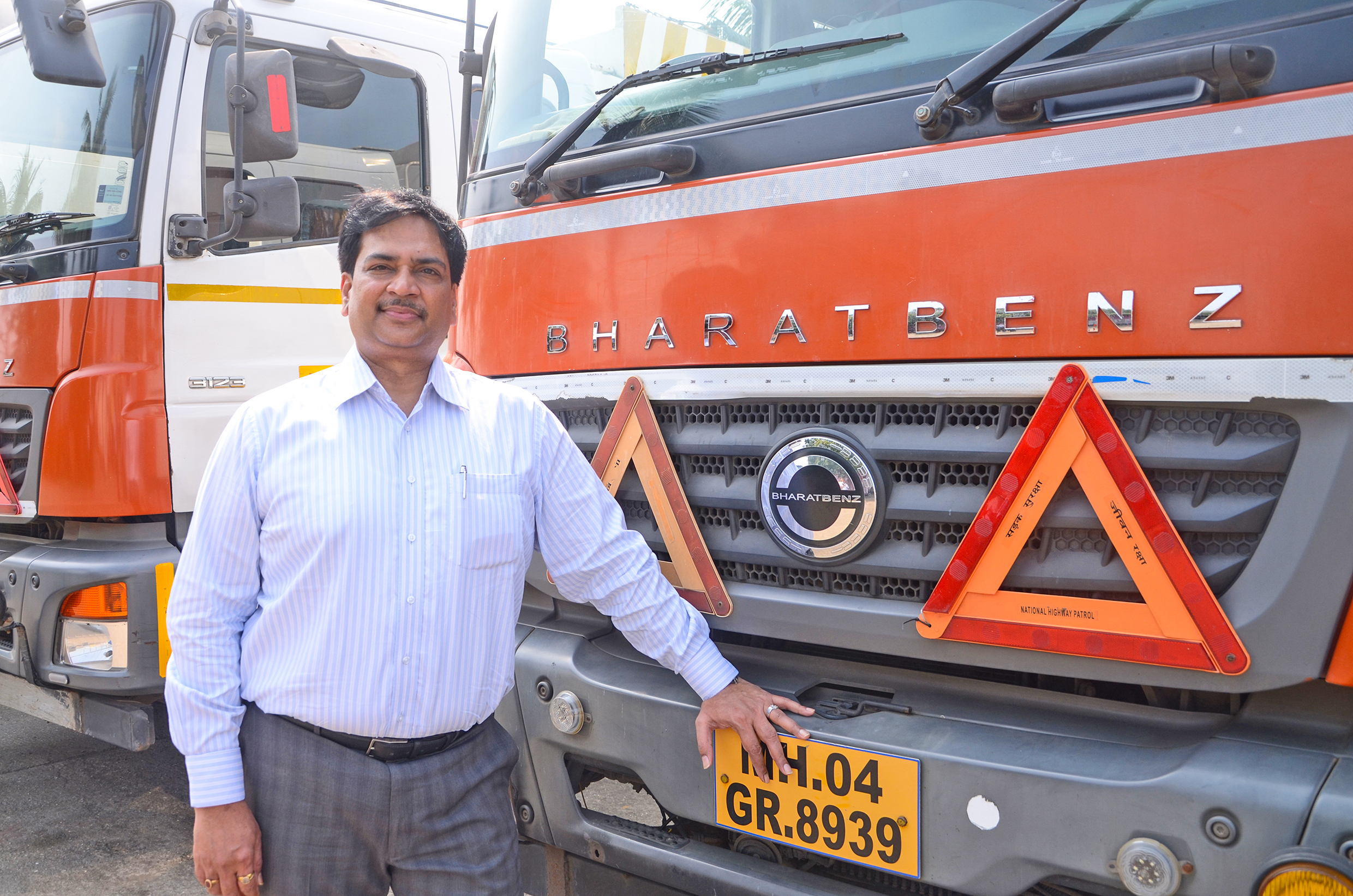 Kailash Carriers biz off to next level with BharatBenz trucks
-
BharatBenz
17th March 2020
Kailash Carriers Limited has established itself as a leader in transporting chemicals and other
hazardous goods across India. The company's business has gone to the next level once
BharatBenz trucks joined its fleet, with deliveries happening without any accidents while
ensuring faster turnaround time and better fuel efficiency. Rajesh Rajgor has the details
Each one of us is a consumer. And while we consume so many things in our daily life, little
do we pay attention to the processes of manufacturing behind the consumables. There is
also scant awareness about how chemicals make for one of the most important ingredients
in the production of various goods, whether it is cars, textiles, homes, food, plastics, paints,
pharmaceuticals, engineering tools, airplanes, oil or gas. However, this is not a story about
chemicals and their contribution. It is more about how these chemicals are transported
from one destination to another – a speciality task that is undertaken by those in the
logistics industry who operate custom-built tankers.
Taking that as a cue, we bring into the limelight Kailash Carriers Ltd. (KCL), a company that
has, for five decades now, been involved in the transportation of bulk chemicals of class A,
class B or toxic and erosive cargo.
Speaking exclusively to MOTORINDIA, Manoj Singh, Managing Director, KCL, elaborates: "We
have 20 different types of tank containers to handle all types of chemicals products. Each set
of product demands a different construct, material specification and certification. We have
been instrumental in moving hazardous chemical tank containers in India since 1969. Today,
most companies prefer to move their dangerous chemicals in tank containers using our
logistic expertise." The journey began 50 years ago with handling fuel for the Indian Air
Force between Mumbai to Nashik.
In addition, the company transported formaldehyde used in the production of plywood,
carpeting, and building insulation from Mumbai to Assam – clocking two trips per month
with a set of five trucks. Now, it easily touches an average of 8,000 km per month across
various routes in India. "We have 478 trucks and 815 tank containers that enable us to offer
our services across India, Nepal, and even Bangladesh. We have branch offices at all major
ports and industrial hubs. Irrespective of the geographical location, we cater to anyone who
requires liquid chemicals. The segments include electronics, automobiles, paints and
coatings, agrochemicals pharmaceuticals, cryogenics medical oxygen, steel industry, oil, gas,
etc. We cover at least 21 different industries," Singh informs.
BUILDING BUSINESS WITH BHARATBENZ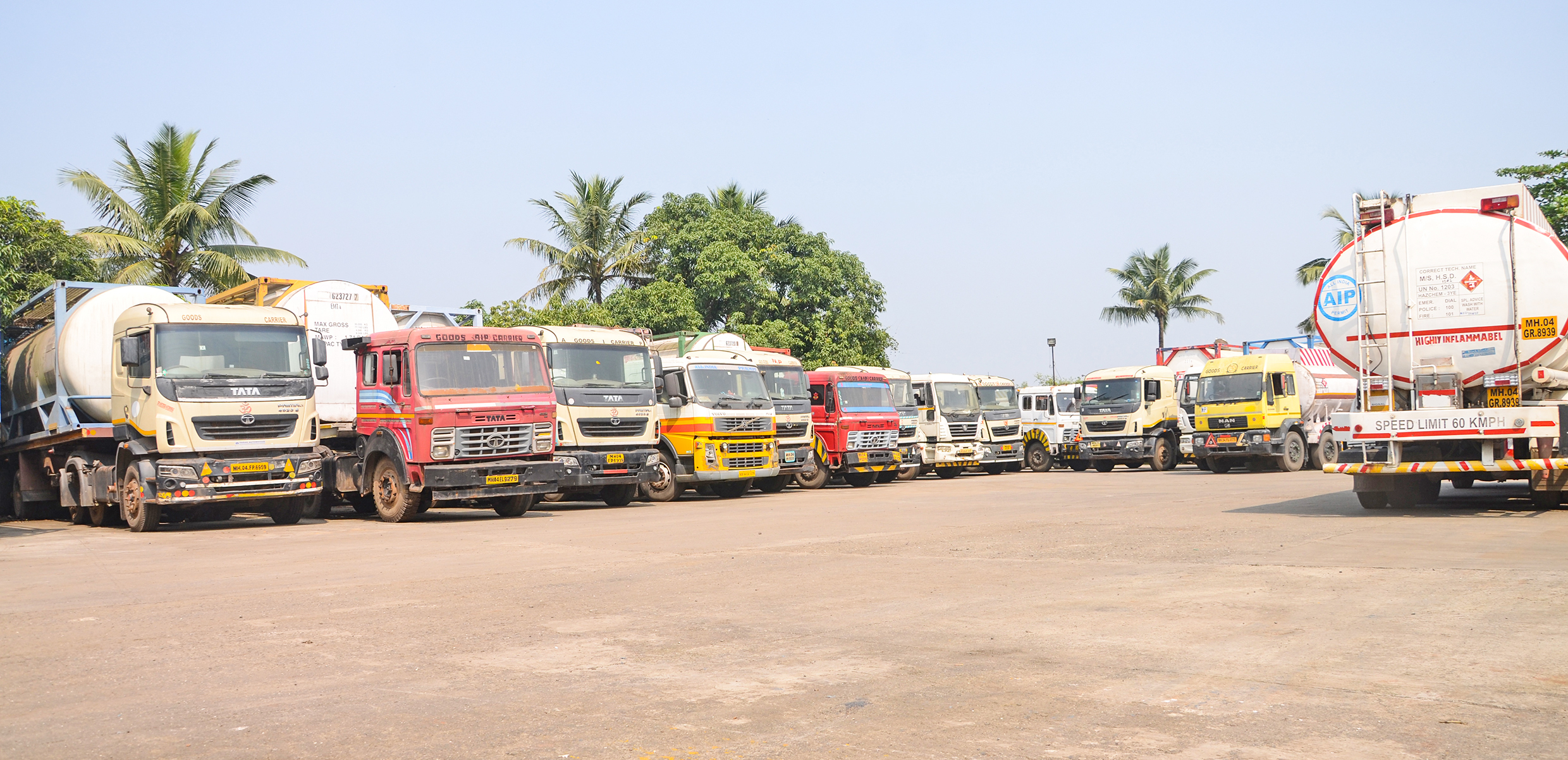 The success of these vast operations can be attributed to one major factor: KCL has been
using BharatBenz trucks since the latter's foray into the Indian trucking segment in 2012.
The primary reason is that KCL has found these trucks very sturdy in handling their
petroleum tankers. Says Singh: "We have been using BharatBenz 3123 trucks (now 3523) for
quite some time along with the 6 x 4 4928. In fact, BharatBenz really understands the applications required by fleet operators. It is critical for someone who is selling a truck to
understand what kind of body the client is going to make on that truck. They not only help
us identify the bodybuilders but also certify the bodybuilders themselves. The company's
efficiency lies in being efficient in selling the right product for the right application."
"The BharatBenz trucks have a joggled chassis frame unlike other trucks made in India. This
makes the fitment of tanks easier without reinforcing mounting legs. They also conduct
training programmes for bodybuilders for proper integration of tanks. Apart from the
exterior features that ensure stability and control, the world-class cabin makes it so much
easier for the drivers. The availability of headrest, adjustable steering, dependable braking
mechanism, and overall aesthetic values is what has established our loyalty to BharatBenz,"
Singh adds. In addition, the proficient after-sales and service network of BharatBenz on the
routes that KCL operates makes maintenance a smooth operation. "Up to 90% of our
vehicles are under annual maintenance contracts (AMC) with the OEM. Their service centres
are strategically located on our predominant routes of Bangalore to Mangalore, Chennai to
Mumbai, Pune to Jamnagar, etc.," Singh says.
CUSTOMISED TANKS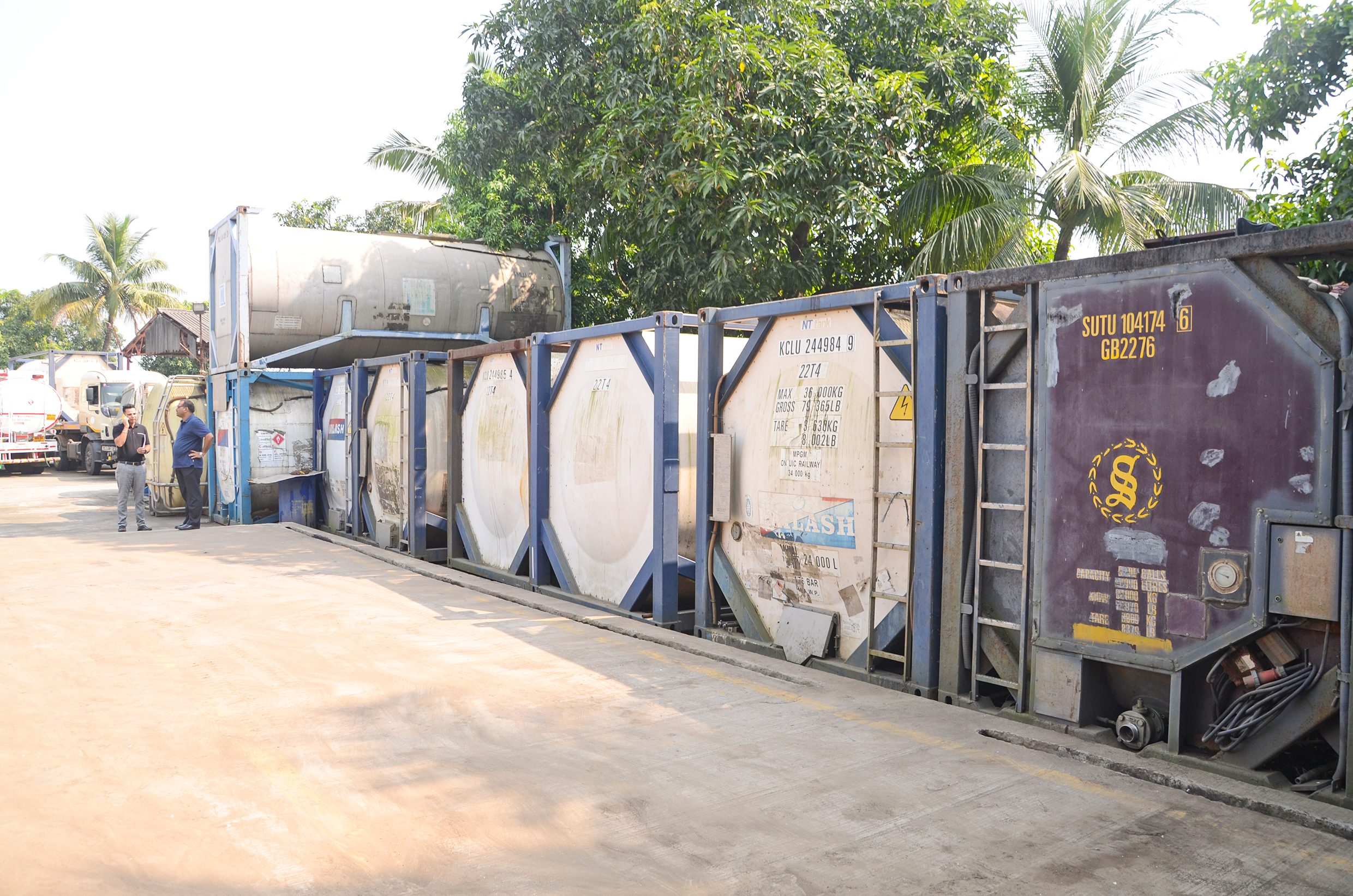 Almost all of the 815 tanks of KCL are manufactured abroad. From capacities ranging from
20 kilolitres to 33 kilolitres, these are imported from countries like the UK, the US,
Netherlands and China. "Most of these tanks are of stainless steel 316 grade, designed to
work with the minimum operating pressure of four bars and maximum of 25 to 35 bars. We
are also the first company in the country to have aluminium tankers imported from
Thailand," Singh informs. Meanwhile, commenting on how the amendment in axle load has
impacted the business, Singh says: "We have to re-design the tanks and increase the
capacity if we need to carry more loads. Unlike other segments that can merely load more,
we cannot overnight increase the capacity of the tank."
"Each and every design aspect of the tank, the mounting on the trailer, compartments in the
tank, fittings, knobs, etc., has to be reworked. The redesigning of tanks is in progress as per
the new amendments and hopefully that will allow us to take care of the inflated rates
elsewhere. For instance, the price rise in insurance, maintenance, driver cost, toll costs have
gone up and only more volume and faster turnaround time with maximum uptime of fleets
can help us mitigate the escalated costs," he adds. In order to further leverage its experience
as a veteran player in the hazardous chemical transport sector, KCL is bolstering its business
into multi-nodal logistics.
"The reason we got into tank containers was to leverage the full potential of the assets by
enabling ourselves to undertake multi-nodal transportation. We can pick up the load from a
vicinity of 100 km to 200 km and load the tank container on the rail, get it on to the long
haul, transfer it to the warehouse, and get it delivered to the client just in time," Singh
explains, adding: "Now that we are planning to enter new business segments such as cold
chain, multi-nodal logistics and are also switching over to Bharat Stage VI and fuel-efficient
trucks, we look forward to maintaining the unique selling proposition (USP) of our company
in being consistent in quality as regards specialty chemical movement in India."
SAFETY, QUALITY AND DRIVER TRAINING
As a policy, KCL's truckers don't drive loaded trucks during the night. "Safety comes first,"
Singh says. Further, with the kind of fuel efficiency that BharatBenz' trucks offer, the
transporter is also looking forward to improving the turnaround time from the current 8,000
km to 12,000 km. "Drivers are an important asset to us just as the trucks and tanks are. We
ensure that each driver in our company gets thorough training on the routes and safety of
the products. They are provided skill-related driving tips from time to time. Every six months
we have a training session which includes a three-day programme on how to handle
hazardous chemicals and engage in fire-fighting operations should any such need arise,"
Singh elaborates.
Over the years, KCL's trust factor among its clients has been strengthened due to the
development of a reliable network across the country to ensure both safety and quality of
service. In that respect, drivers are also trained to connect with officials of their nearest
branch office to resolve issues so that the client's time and money is not wasted. "We have
local emergency response (ER) teams to maintain a network of contingency plans and
respond effectively to emergencies related to hazardous substances and oil. In addition, all
our trucks are provided with personal protective equipment along with first aid supplies and
fire extinguishers," Singh points out. The trucks are also equipped with GPS and mobile
technologies and the company has checkpoints every 200-250 km on all major routes to
guarantee smooth, accident-free transport.
KCL also has a special cleaning process in place for tankers for which provisions are made at
all their major workshops. "Our cleaning stations are fully equipped and capable of handling
hazardous chemicals while complying with the various environmental, health and safety
standards. However, over the years we have practiced acquiring dedicated tankers to
substantially minimise the task of cleaning tanks," Singh states.
And now that KCL enters its 51st year of operation in India, one aspect that has stayed with
them over the years is their quest for never compromising with quality. "Our entire fleet
adheres to each and every regulation laid down under the Motor Vehicles Act for
transporting chemicals and other hazardous substances. We are particular about deploying
robust quality and sturdy modern trucks for our operations and adding BharatBenz to our
fleet has been a big step forward in that direction. We are delighted with our experience
with the brand and hope to continue growing together with them in the years to come",
Singh signs off.