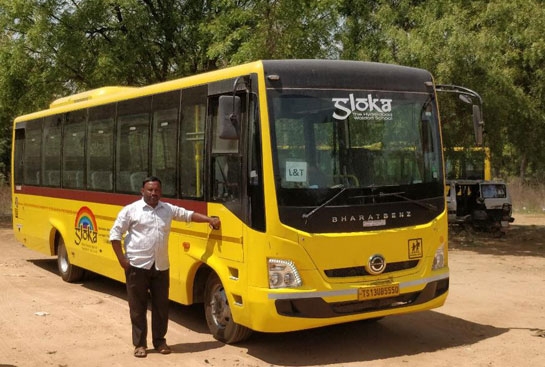 Theres no 'braking' our promise Safety first
-
BharatBenz
2nd April 2019
It's still early in the morning, the sun just a faint whisker on the sky. Yet, Shami Ahmed is already out, cleaning cloth in hand. The cleaner outside is doing his job, but Shami doesn't like anyone else to touch his driver's seat. He wipes the gear shift and then the dashboard. The rearview mirror is shining. He peers out from the side mirrors to make sure that Ravi, the cleaner has done his job. And he has. Shami heaves a sigh of satisfaction. He loves his job and another day is about to begin…
Shami has been working as a driver for Sloka Waldorf School in Hyderabad for the past seven years. "I was a truck driver before I came to this school," he says. But the long hours on the road, hauling cabbages and tomatoes across states broke his back. Now, Shami sits behind the wheel of the BharatBenz school bus. "I love this bus," he says. The BharatBenz bus is painted a bright yellow with Sloka Waldorf School's logo and address on the side.
For Shami, driving in Hyderabad's traffic means that he has to trust his vehicle just as much as his driving skills. "I am aware that driving these children is different from driving adults. I make sure that the children are seated before I drive off. But even if I have to brake suddenly, I find that I can control this bus better than the other vehicles I have driven," Shami says while wiping down the dashboard.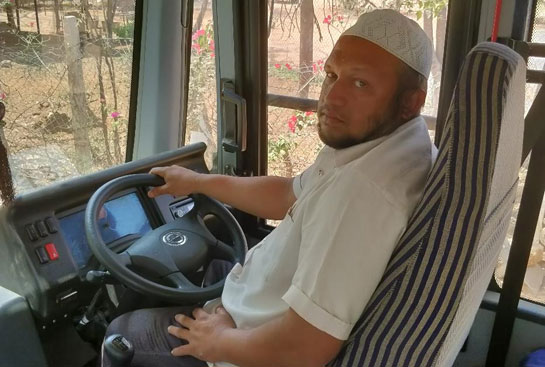 And because safety is paramount, all BharatBenz school buses are equipped with the Anti-Locking Braking System or ABS for short.
ABS makes Shami's life much easier because they give him greater control of the vehicle during emergency stops by minimizing skidding. We need to remember that India is the most dangerous country in the world when it comes to road safety.
ABS is especially crucial, therefore, as the country reports more than 382 road accident deaths daily. Trucks, buses, multi-axle tractor-trailers were involved in more than 30% of these reported accidents.
Ride safe from start to finish
Every seat on the bus comes with a seat belt and Shami is known as the 'Seat Belt Mama' among the school children because he refuses to drive unless the children are all strapped up. Shami knows that children need to feel safe - they need to trust the driver. And the driver needs to trust the bus. "I leave home in the morning. So do these kids. We then have a home on the road. That's how I look at the bus." The children have a cocoon of their own on the bus - the bus has a low center of gravity that gives them a feeling of stability and makes them relax even if it's a long ride ahead. Shami smiles at the antics of the kids on his bus. "They are different on the bus, you know," he says. "Here, they are free to talk without parents or the school teachers around them."
Shami also knows that there is a buzzer in his cabin that alerts him to open the emergency door. "There is an emergency beacon and an announcement system to inform the children of any untoward situation. I haven't used the beacon, but I have used the announcement system many times to pass on information about delays or such things," Shami explains.
Drive safe; drive steady
While BharatBenz ensures that the school bus that Shami drives is fitted with the latest technology, Shami knows that a great vehicle needs a great driver too.
Shami is an experienced driver who understands just what it takes to drive a school bus.
"I always tell other drivers to avoid extreme acceleration or deceleration. Stable, steady driving is what helps the best in traffic," he advises. Shami also trains his crew of other drivers on proper behavior while driving. Cell phone usage is a strict no.
"Always ensure that your bus has gone through regular maintenance and servicing," he adds. In fact, Shami checks the BharatBenz bus himself before every trip. "Have patience. Children might take time to exit or enter the bus. It's important that we give them the time to do so and also that we don't stop in the middle of the street!"
It's already 7AM and time for Shami to begin his trip. He checks the rearview and side mirrors before driving off. Slowly, steadily. Just the way he has been doing for the past seven years. The BharatBenz bus hums along smoothly.