Milky Mist and Bharatbenz 'Quantum of Solace'
-
BharatBenz
23rd August 2021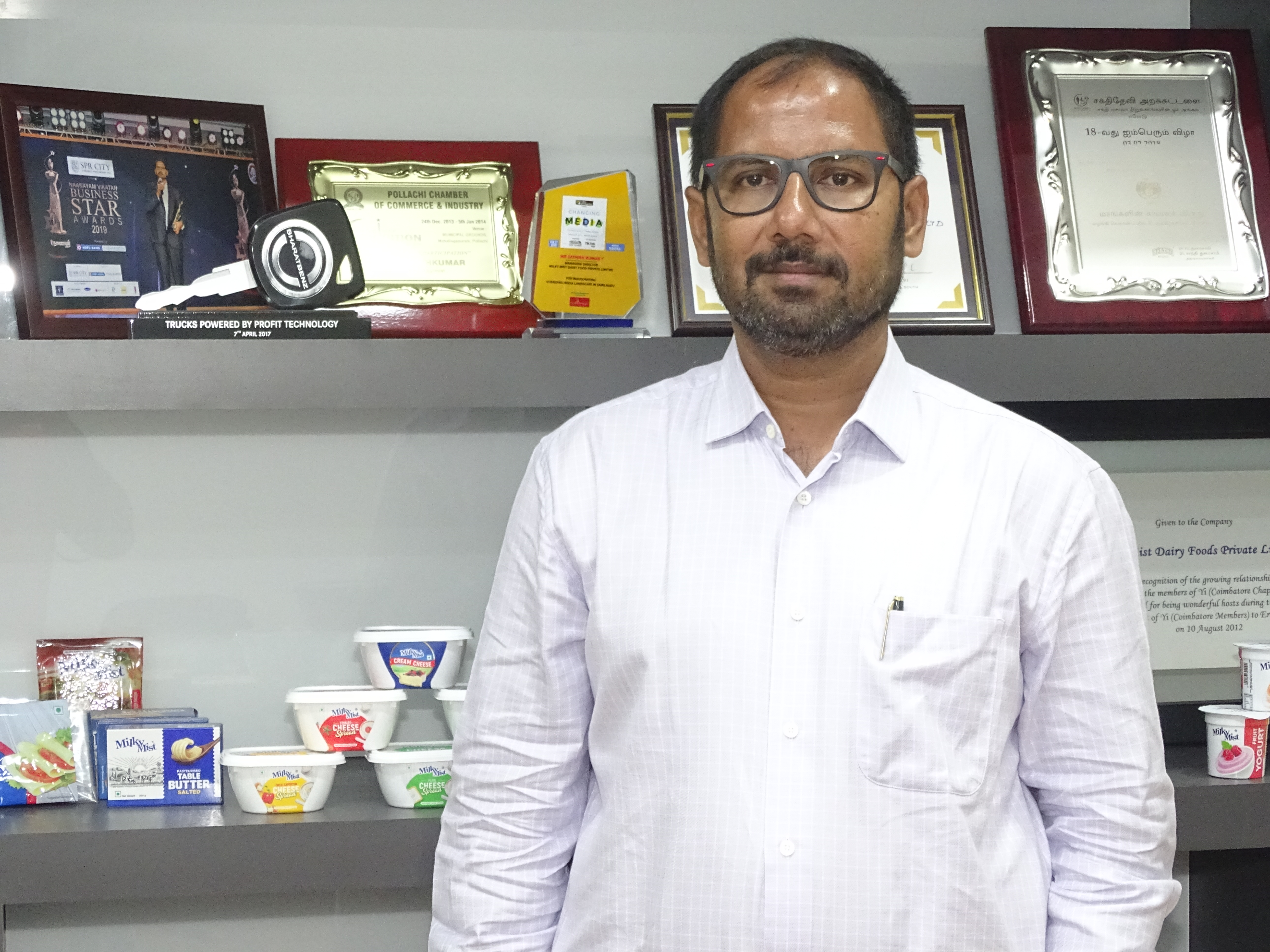 On a sunny Monday morning, we reached the campus of Milky Mist – a brand synonymous for premium dairy-based products in the country – located off Perundurai town near Erode in Tamil Nadu. This is perhaps the largest single-location cheese making unit in the whole of India, while also manufacturing over 20 other processed dairy items including paneer, cream, yogurt, curd and so on that intermittently find place in our refrigerators at all times. As we walked in, the first thing that caught my attention was the legion of BharatBenz branded trucks dressed up in eye-catching and splashy liveries, plying in and out of the campus round the clock.
It's 24x7 affair here, it ain't a 'Monday morning' thing! These company-owned trucks queue up in front of various berths equipped with automated IoT systems, waiting for their turns to get loaded or unloaded. Haulage trucks with insulated tankers bring fresh milk from nearby farms and procurement hubs that is to be unloaded in the facility, while containerized reefer trucks load up packed, finished products for various markets across the length and breadth of the country.
Founder and Managing Director of this dairy empire is T. Sathish Kumar, an inspiring entrepreneur and a celebrated personality who rose to prosperity out of his sheer hard work. He tells MOTORINDIA that his fleet stands at 85 trucks – a one-hundred percent BharatBenz fleet – consisting almost all haulage variants of the brand, starting from medium-duty MD 914 and intermediate 1214 to multi-axle 4228 Milky Mist and Bharatbenz: 'Quantum of Solace' BharatBenz has got what it takes to make a preferred trucking partner to a leading dairy foods firm to realise its 'farm to fork' promise to its end customers. Dhiyanesh Ravichandran in conversation with T. Sathish Kumar, MD of Milky Mist Dairy Food – a company with one-hundred percent BharatBenz fleet and the first user of the brand's BS-VI trucks in its region T. Sathish Kumar, MD of Milky Mist Dairy Food R. Some of these are BS-III variants that have clocked over 6 lakh kilometers, while a majority are nearly-new BS-IV trucks, he adds. An ardent fan of BharatBenz, he is the first customer in the region to take the delivery of the brand's latest BS-VI trucks. The Milky Mist fleet, at present, has 12 BS-VI compliant vehicles, while three more are all set to be inducted into duty soon.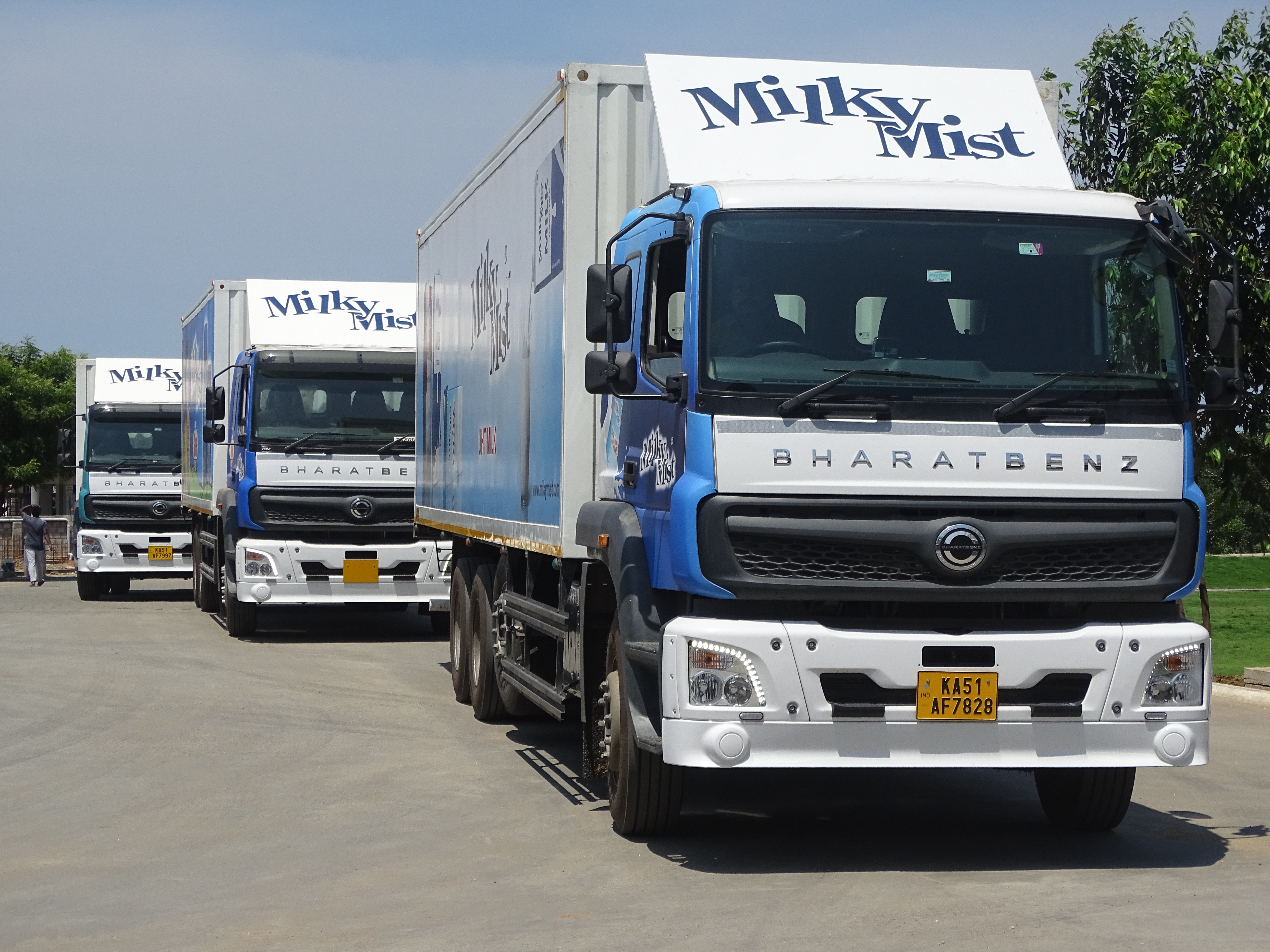 "Why BharatBenz?", I asked him. After all, transportation is not his core business, why even bother to have his own fleet? With a huge guffaw, he began to explain me that his business priority does not necessarily end with just dairy processing. "Milky Mist has set industry benchmarks for not just premium quality products and world-class packaging, but also for excellent consumer COVER STORY 26 MOTORINDIA u October 2020 reach. We maintain our quality and excellence from farm to fork, wherein the perishable nature of our produce demands us to maintain cold chain across the logistics trail. Thus, refrigerated transportation and just-in-time delivery is part and parcel of our business, and we never want to take any chances by either outsourcing logistics or renting trucks to haul our products to markets", he said.
Without any pause, Kumar quickly moved on to my core question. "I chose BharatBenz for its cabin aesthetics and comfort, reliability, and hassle-free service. We do lot of branding on our truck cabins and cargo bodies, which is a distinctive strategy of marketing the brand with our end users. I have tried all other marques in the past. But none of them stood up to the sleek styling and sturdiness of BharatBenz. The brand is also consistently refreshing the styling details which greatly complements our branding efforts."
Further, Sathish Kumar seems to pay attention to the quality and comfort level of truck cabins. "From day one, I preferred factory-built cabins for their uniformity and safety, much to the displeasure of my drivers in the initial days (who preferred custom-made cabins instead for practical advantages). BharatBenz cabins are ergonomically-designed, come loaded with comfort and safety features, and is way more practical than its rival brands", he claimed, while adding that his drivers look no further than BharatBenz cabins these days after getting used to its comforts. Kumar also feels that the truck makers have a long way to go in terms of improving cabin comfort and features in the domestic market. "No doubt, BharatBenz has got much of a head start in this regard."
The MD also brought in vehicle reliability and extraordinary customer service as defining traits of Indo-German brand. "Breakdowns or road mishaps are very minimal with BharatBenz trucks, and there have hardly been any instance of premature failure of parts or unavailability of spares" he informed, while acknowledging Daimler's technological and engineering expertise as a key strength to the success of the brand in India. "Further, the brand's service network has greatly improved across all regions in recent times, which gives us much-needed respite and confidence while undertaking long-hauls", he added.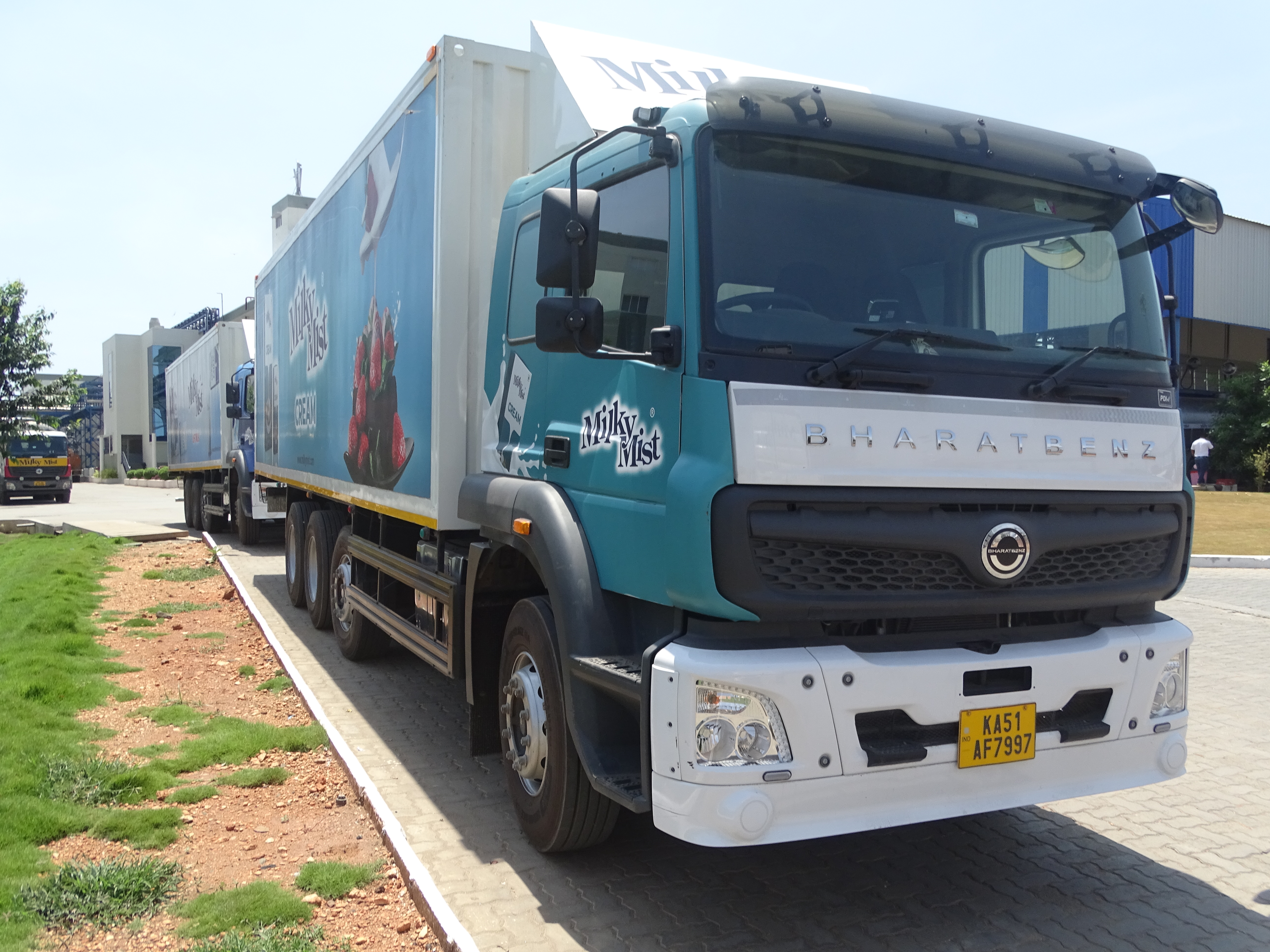 "At the end of the day, frugality in operational costs and higher uptime is what we aspire. Since our produce is 'essential' in nature for the sustenance of common people, we cannot say no to anybody – neither the dairy farmers nor the end users of our food products". Kumar claimed that his trucks were running 24x7 even during the months of COVID lockdown, when most of the service centres and highway workshops remained closed. "Since most of our trucks are under annual maintenance conCOVER STORY MOTORINDIA u October 2020 27 tracts (AMC), it is less stressful for us to manage our operations and vehicle maintenance anytime anywhere in the country. BharatBenz arranged special service teams for our vehicles during the nationwide lockdown to keep our business running", he commented, while appreciating the outstanding customer outreach of the brand when it comes to service and driver training. "It will be great if AMC covers tyre and fuel management as well", laughs Kumar.
Asked about his impressions on the new BS-VI trucks, he replied, "BharatBenz has embarked on an extra mile with BS-VI updates to offer a host of improvements in styling, cabin equipment, and engineering. Although the price hike is very steep from BS-IV to BS-VI for all truck brands, which may put some independent truckers at a disadvantage, it might be easier for them to absolve the added premium with the value benefits that BharatBenz offers." He cited the in-built 'Truckonnect' telematics, a standard fitment on all BharatBenz BS-VI trucks, to argue how the connected system's seamless integration to the fleet ERP can benefit them with higher optimization and saving. His fleet is already using a third-party system of similar kind for over a decade, and will migrate to 'Truckonnect' in due course. A comprehensive onboard navigation system can make this 'connected trucking' endeavor of BharatBenz complete, he opined.
The BS-VI variants purchased by Milky Mist include BharatBenz 2823 R, 3523 R, and 4228 R – all heavy-duty multi-axle haulers. "A fully-built, fully-loaded truck from a well-supported manufacturer is just like a luxury car. It is reliable, safe, and efficient. BharatBenz is absolutely a remarkable trucking brand to partner with", said Kumar. He prefers to go for heavy-duty trucks in the coming times to handle large volumes with less or marginal increase in operational costs as against intermediate and mediumduty trucks, while foreseeing a fleet size of 200-250 trucks in the next five years under the Milky Mist brand.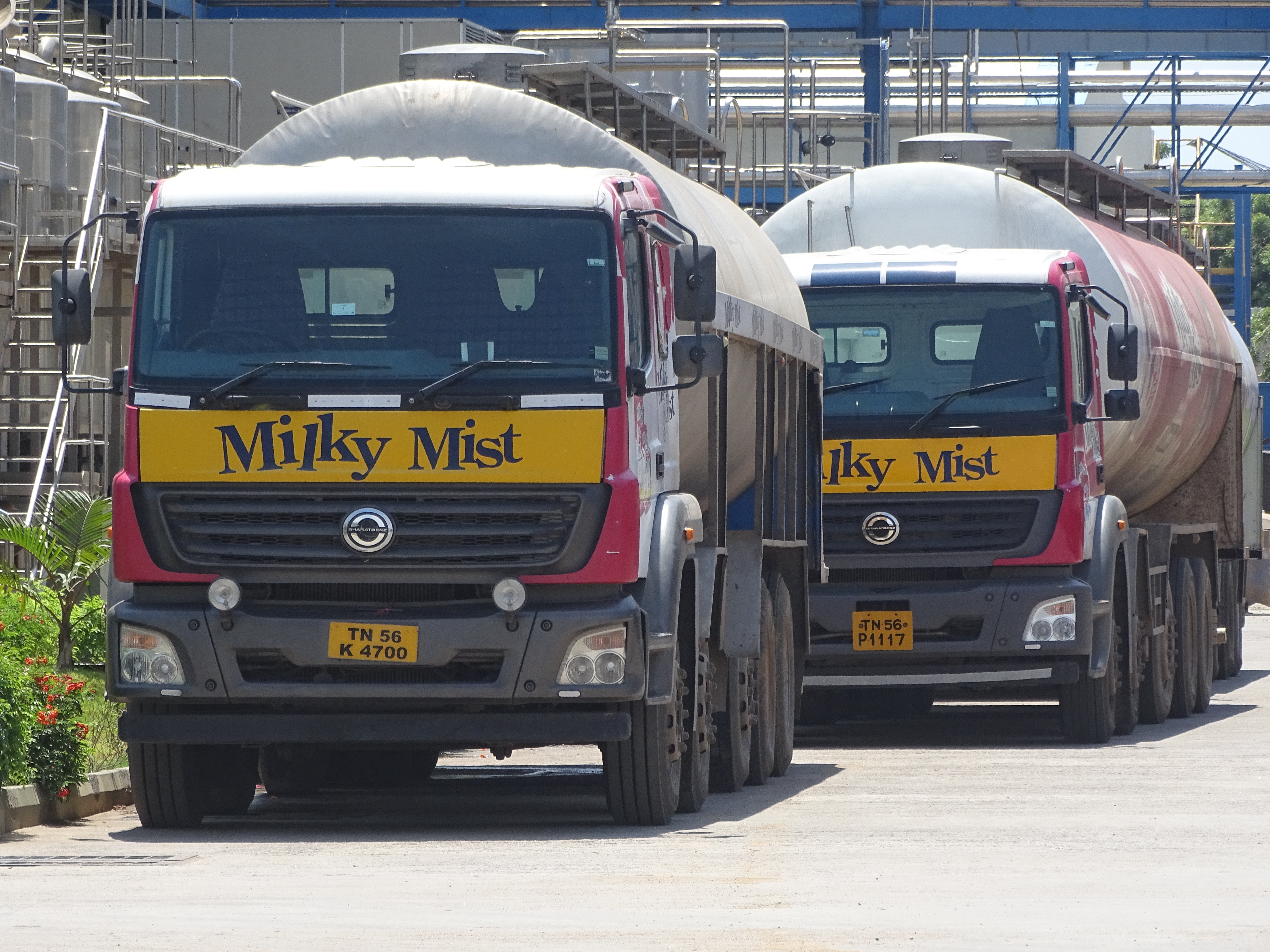 "We don't want to take any risks by either investing on multiple brands or outsourcing our cold-chain transportation. Why should we even think of going for other brands when we for sure know they will be no match for BharatBenz?", he declared. In any partnership, there has to be 'quantum of solace' between the two parties, where they are willing to share the comfort and synergies with each other, to make it sustainable. In the case of Milky Mist and BharatBenz, it is quite apparent!